Pilea Peperomioides | Chinese Money Plant & Pot
Sale price

£11.99

Regular price
They Pilea Peperomioides has adorned many Instagram pages over recent years as their popularity continues to grow. They're well loved for their pancake shaped leaves and full growth. They regularly push out small babies that can be easily propagated and shared with friends which is where it gets its common name of Friendship Plant. These guys are also pet friendly so there's no need to worry about your furry friends.

Decorative Pot Included
Pot Size 12cm
Plant Size 21cm
Adding product to your cart
Care Level: Requires a little love
Light
A brightly lit spot is ideal

Water
Allow the top inch of soil to dry out, weekly watering is accurate.

Humidity
They do like some humidity. A regular spritz or position in a humid environment would be beneficial.
Frequently Asked Question
What if I've never had a plant before?
No problem! Every plant from Jungle comes with simple care instructions. Our team is also here to answer any questions you might have along the way! Your experience doesn't end with your purchase.
What if my order is a gift?
All orders are delivered without pricing information. You'll find a box to enter your Gift Note on your Cart page, and we'll complete a handwritten note to go with your order. Go one step further by adding one of our plant themed greeting cards! (See Cards)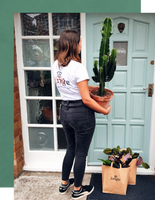 Delivered with love across all of Birmingham
Using minimal, plastic free and 100% recyclable packaging, we provide track & signed hand-delivery to all B post codes!

Deliveries are free to all B post codes on orders over £30, and just £4 on orders below!


Use left/right arrows to navigate the slideshow or swipe left/right if using a mobile device