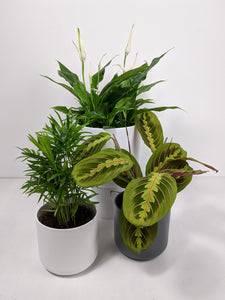 The Nursery Bundle
Sale price

£26.50

Regular price

£29.97
When kitting out the nursery for your new little one, plants that offer a sense of peace, energy and softness are a must. But plants do more than adding to the aesthetic of the nursery, they help to purify the air by removing toxins and the different colours and shapes in their leaves will help to provide visual stimulation for your growing baby.
The plants in this bundle are known not only for the ability to purify the air but also for being low maintenance and non-toxic. In the bundle are:
A Chamaedorea Elegans aka A Parlour Palm: An easy care palm known for its air purifying abilities. Their low maintenance nature and their feathery leaves make them an elegant addition to your nursery. These guys are slow growers so there's no need to worry about them taking over or needing a repot anytime soon.
A Spathiphyllum aka A Peace Lily: The plant that tops every air-purifying plant list! A must for those attractive blooms, simple beauty and easy care nature. This plant is mildly toxic if ingested so once baby is on the move ensure this guy is on a shelf so that he can keep working away to purify the air out of reach of tiny hands.
A Maranta Leuconeura Tricolour aka A Prayer Plant:  This beautiful variety of Maranta has contrasting red banding adding an enjoyable pop of colour to their stunning foliage. We love when they start to trail down the side of the pot! A great bit of added texture and movement (their leaves 'dance' in the evening) to your nursery. 
Adding product to your cart
Use left/right arrows to navigate the slideshow or swipe left/right if using a mobile device